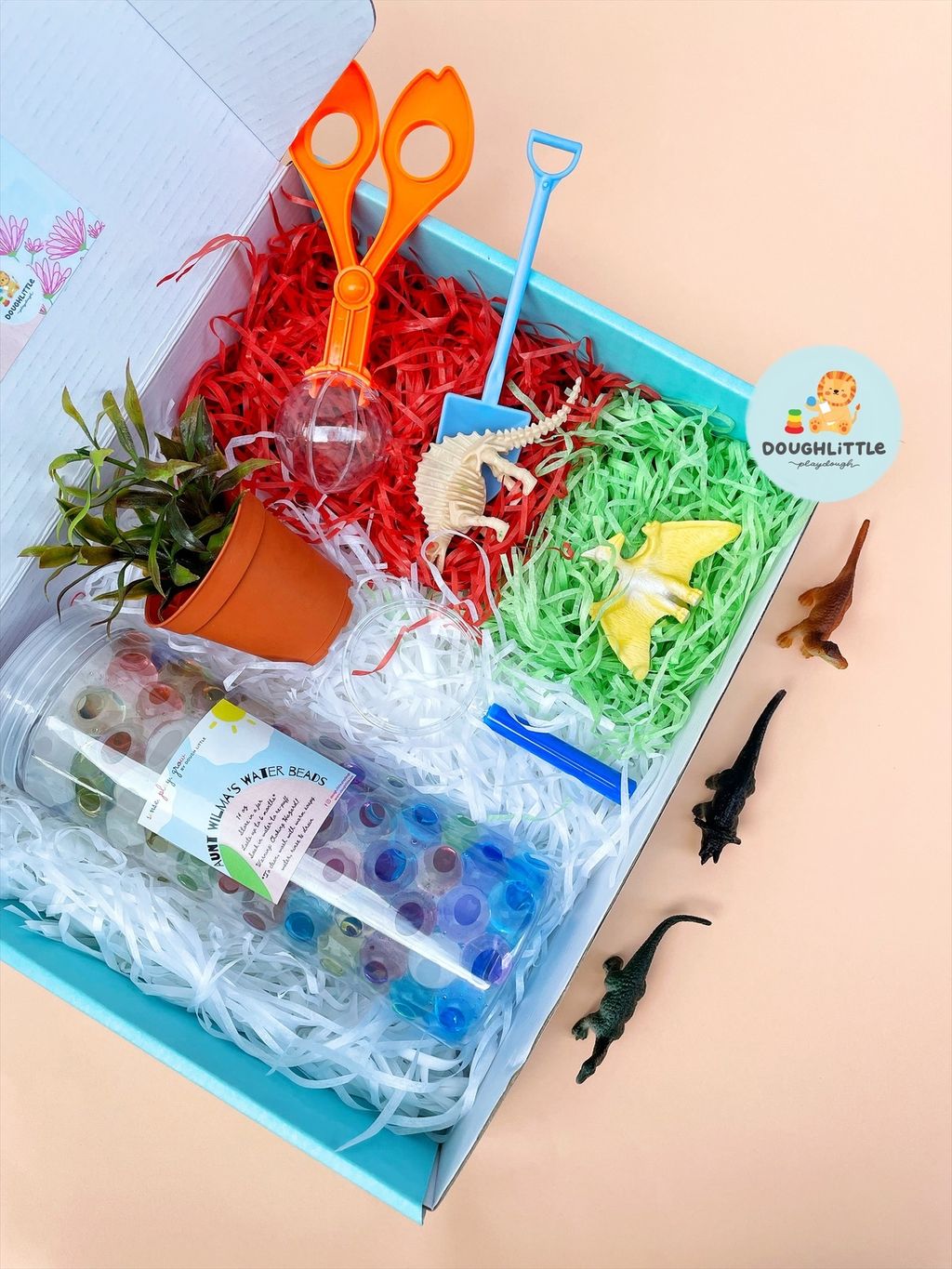 Customise My Water Beads Box
Sensory play materials such as Water Beads have been shown by numerous researches to enhance nerve connections in a child's brain pathways. Our Customisable Water Beads Box is an all time favourite amongst customers who are looking for truly unique and ONE-OF-A-KIND gifts for their children. Each box is DIFFERENT and thoughtfully curated according to appropriate age groups and general favourite themes (see pull down list), bringing your child the BIGGEST surprise and a wholesome play time!
What's more, this Surprise Box is fully personalisable with your Little One's name. Well, let's start singing, squishing and playing!
This Box includes:
- 400 grams of coloured Aunt Wilma's Water Beads (colours chosen by the Dough Little Team)
- 1 sensory scoop, tong or spoon
- 1 play tool
- 1 (or a set of) main toy
- Matching trinkets and accessories
- Child's name can be personalised on Box
Recommended age: Ages 3+ (Kindly mention the NAME of your child for us to create a box that is awesome for him/her).
Dough Little introduces the wonder of water beads, which engages your child's tactile senses that is crucial for building neural networks in a child's brain for development and growth. Each jar provides your child with fun, engaging and wholesome play experiences for the entire family.
Aunt Wilma's Water Beads are made of odorless, kid-friendly polymers and can last up to 6 months. They can be kept in any container, preferably away from Mr. Sun. To repuff, just soak them in water again. To clean, simply soak in warm soapy water, rinse and drain. Giant water beads are more delicate so be gentle with them.
Tiny tips: Play in a tray or in a bath tub with clean hands. All products should be played under parental supervision at all times as they are Choking Hazards.
Disclaimer: We pride ourselves in creating these truly handy and unique jars as shown in each picture, however there may be slight variations due to lighting from screens and also replacements due to stock shortage.